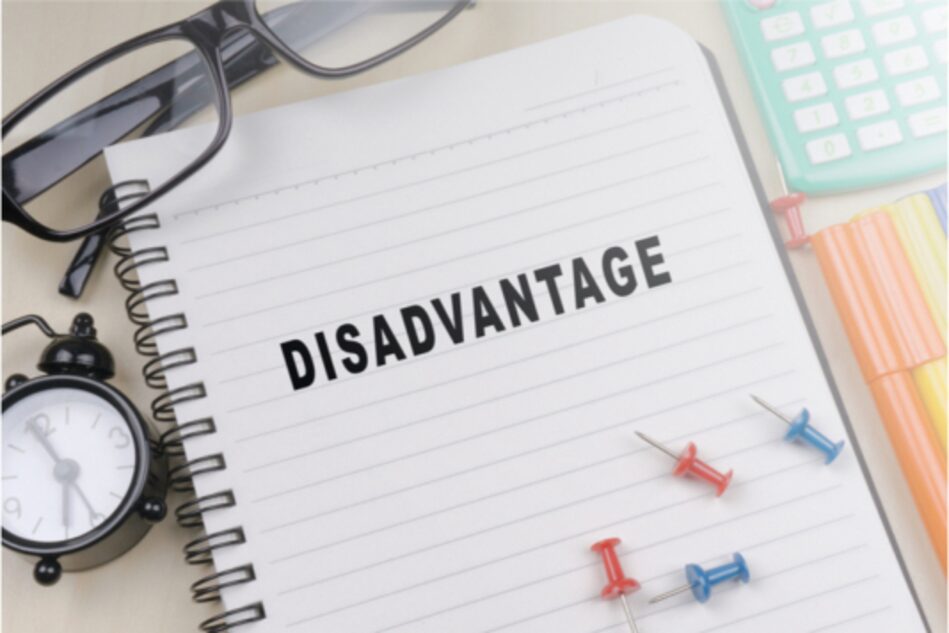 The Florida Legislature created Citizens Property Insurance Corporation in 2002 to provide affordable property insurance to eligible Florida property owners that were unable to find coverage in the private market. Unlike most private market companies, Citizens is a tax-exempt non-for-profit government entity.
Prior to 2020, we saw only a handful of policies being written with Citizens. Typically, these policies had either prior claims, were old and coastal, or had issues such as galvanized plumbing, cloth wiring, or aluminum wiring. However, this year our agents have been writing more Citizens policies than we have in over 10 years. The main reason is rate increases. As mentioned in our February Blog, Florida Homeowners Rates to Increase in 2020, pretty much every one of our carriers has been taking rate increases ranging from 5% to over 20%, while Citizens most recent increase was only 2.3%. These private market rate increases are due to higher reinsurance claims as a result of Hurricane Irma and Michael losses & water and damage loss abuse.
As we continue to write more and more Citizens policies, our agents often get asked about the pros and cons of using Citizens to insure your home or condo. While Citizens is a stable company that has a history of paying out claims there are some downsides or disadvantages which every Florida property owner should know of.
Downside #1: Assessments
Citizens allocates 73 cents of every premium dollar to paying claims and of that about 17 cents towards hurricane claims. However, there is a possibility that a particularly devastating storm or multiple storms could exhaust Citizens reserves and leave the company without funds to payout claims. Therefore, Florida law requires that Citizens charge assessments until it's deficits are eliminated.
Citizens has 3 tiers of assessments:
1st Tier (Citizens Policyholder Surcharge) is a 1-time assessment up to 45% of the annual premium for Citizens policyholders only
2nd Tier (Regular Assessment) is a 1-time assessment up to 2% for non-Citizens policyholders
3rd Tier (Emergency Assessment) is a single or multi-year assessment up to 30% for both Citizens and private market policyholders.
To explain the assessments, Citizens has created the following graph which shows the potential assessments of a $3,000 policy.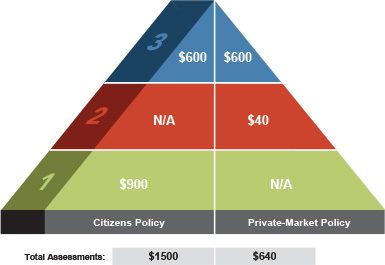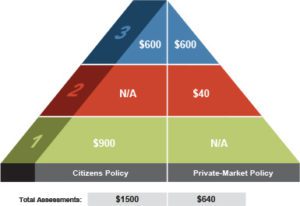 Downside #2: Limited Liability coverage
Citizens required that all policies issued after May 1, 2012, be issued with only $100,000 in Personal Liability coverage. Prior to this date liability coverage was offered up to $300,000. This is one of the biggest drawbacks in our opinion. However, it can be remedied by purchasing either an Excess Liability policy or an Umbrella that will drop down to the $100,000 limit.
Downside #3: Lack of Endorsements
Citizens has a few beneficial endorsements such as replacement cost coverage on contents and increased Ordinance or Law coverage. However, most private markets offer many more additional endorsements.
Below are a few of the endorsements that you will not be able to buy with your Citizen's policy:
Increased Mold Property Coverage (Section I)

Citizens only offers $10k in coverage. Other carriers can offer $25k, $50k, or even higher limits

Dog/Animal Liability

Citizens specifically excludes all types of animal liability claims. With some private market companies, you can purchase small limits of coverage such as $25k, $50k, or $100k

Water Backup

Citizens excludes loss that is a result of water backing up from a sewer or drain or which overflows from a sump pump. Most other carriers can offer $5k or more in coverage

Hurricane Screened Enclosure Coverage

Citizens excludes loss to screened enclosures and aluminum framed carports as a result of hurricane loss. With most other carriers you can purchase coverage from $10k to $50k or more

Personal Injury

Citizens exclude liability loss as a result of defamation, libel, slander, wrongful eviction, and false arrest. Most private markets can offer coverage up to the limit of liability for these personal injury type claims
Downside #4: High-Value Homes Not Eligible
Effective January 1, 2017 Citizens made dwellings of $700k or more, condos with dwelling and contents limits of $700k or more, and tenant's contents policies with contents limits of $700k or more ineligible for coverage with Citizens. Citizens believe that these higher-value homeowners had other viable options in the admitted and non-admitted markets and could afford higher premiums.
Downside #5: Citizens Depopulation
The Citizen's depopulation program matches Citizen's policyholders with private market companies interested in removing their policy from Citizens. If the policyholder receives an eligible option from a private market company, they must request to stay with Citizens even if the premium with the private market company is higher.
Citizens Property Insurance Corporation serves a very important purpose in the Florida insurance marketplace. As independent agents, we believe in the private Florida homeowner's market. However as rates continue to jump, hurricane exposure non-renewals continue to come, and other private market companies continue to tighten up their guidelines, our team will be there to help you make the appropriate decisions when insuring your home or condo.
If you have any questions about the downsides of Citizens or would like for our agents to provide you with a quote for your dwelling or commercial property, please reach out at 727-345-0242 or email our agent and author of this blog, Brian Ford, CPCU, CIC at bford@insuranceresources.com